The Most Beautiful & Glamorous Designer Bags For Weddings
A great looking luxury designer handbag is one of the finest accessories that you can carry to a wedding party. It can surely give your elegant outfit an extra glow. Although wedding accessories like jewelry are very much essential because they add a touch of charm, a designer handbag is also important as it adds sophistication to your attire. A chic designer handbag from a luxury brand like Louis Vuitton, Fendi, Gucci, Hermes or Chanel will fetch you compliments at weddings.
When Michael Kors famously said "Accessories are an exclamation point of a woman's outfit" we all knew he was talking about handbags. Whether it's a Louis Vuitton tote, Fendi clutch, Gucci shoulder bag or a Chanel wallet, luxury designer brands offer an array of handbags to choose from that will complement any and every outfit that you can think off. Check out some of the luxury bags listed below, which are perfect to be carried to wedding parties.
Saint Laurent Black Cabas Chyc Clutch
Shop this Saint Laurent Black Cabas Chyc Clutch here
Saint Laurent continues to bring stylish and exquisite collections season after season which are adored by fashionistas across the globe. This particular elegant yet handy clutch will go with almost anything that you plan to wear. Crafted from patent leather, the best part about the clutch is the brand's iconic and instantly recognizable 'Y' closure in gold tone. It has a magnetic snap lock closure which opens to a satin lined interior which is spacious to carry your essentials. You can pair this with any attire and instantly get a luxurious and sophisticated look.
Stella McCartney Black Bucket Bag
Shop this Stella McCartney Black Bucket Bag here
Eco-conscious brand Stella McCartney is instantly recognizable for their feminine, modern and chic designs. This stunning bag is impeccably crafted from black shimmery faux deerskin leather. The gold-tone hardware and the drawstring leather closure at its front simply take its look to the next level. You'll find its interior lined with Jacquard and spacious enough to carry all your desired essentials in a wedding; such as makeup, lipstick, wallet, etc. Don't miss to own this beauty as it's perfect for wedding parties and for nights when you hit the club with your friends.
Alexander McQueen Rihanna Faithful Glove Clutch
Shop this Alexander Mcqueen Rihanna Faithful Glove Clutch here
The Alexander McQueen Rihanna Faithful Glove Clutch is such a fun style! It has long been adored by celebs and fashion-buffs alike. It features a fold over flap and comes with a detachable glove which makes it a stylish way to hang onto your clutch. With its simplistic fabric lining and a zipper pocket, in the interior, this clutch will accent a glamorous appeal. You will surely fall in love with this one. It's unique and so difficult to find that no one in your circle will have it. If you are about to attend a crowded wedding party be sure to carry this bold Alexander McQueen Faithful Glove Clutch. The glove will be a bold and classy way to hang onto your clutch while its unique design will make you steal the spotlight.
Louis Vuitton Limited Edition Theda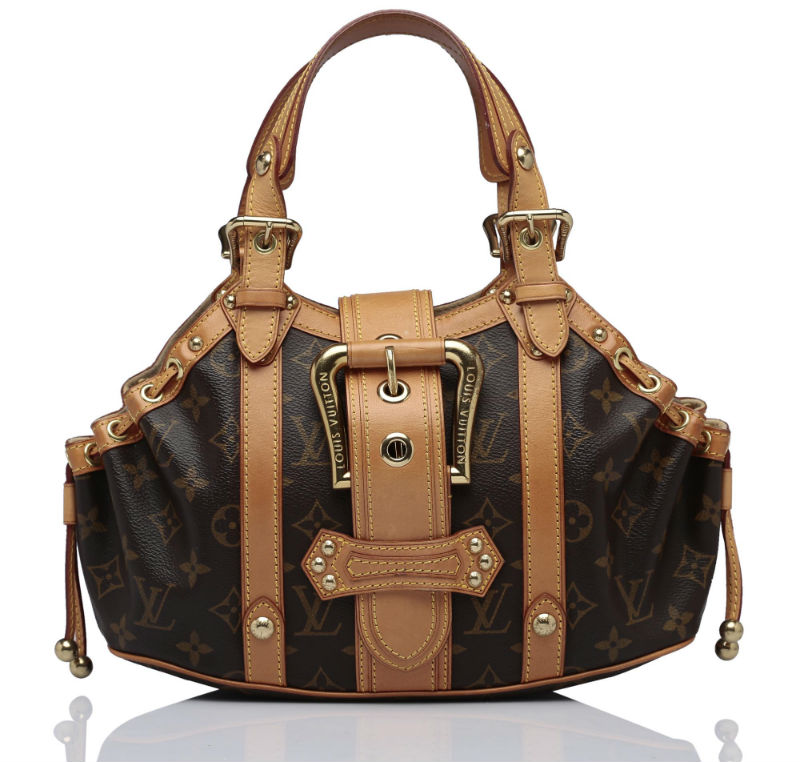 Shop this Louis Vuitton Limited Edition Theda here
If you are looking for something that no else will have, you must check out his limited edition bag from Louis Vuitton. Only produced in 2004 in limited quantities, this bag is a must have. Its instantly recognizable monogram pattern will leave no doubts in the minds on onlookers about your class and sophistication. It's an apt bag to go with an ethnic outfit. Moreover the chunky buckle and beautiful studs add an element of sophistication to the bag.