Parties, festival, or wedding of your loved ones all requires you to look like a diva. You need to look the best amongst all, and carrying a designer handbag will not only make you look the best but will also ensure that you look charming, glamorous and sophisticated.
The charm of Louis Vuitton, Fendi, Gucci, Hermes, and of course Chanel will undoubtedly make you the center of attention. Without a doubt, these days, every woman wants to accessorize her ethnic outfits with a stylish chic designer bag. But have you ever thought that exactly what kind of bag goes well with typical ethnic wear? In today's world of fast luxury fashion, it is important to know what's next. As a fashion lover, you cannot take chances.
Special occasions like friend's wedding is a once in a life time occasion and it's important to make a statement so that you and your outfit are remembered for years to come.
Carrying a designer clutch is a smart and stylish way to accessorize any Indian traditional outfit. It is also quite compact to carry your basics. In case you want to add a glam effect to your Indian attire then choose thin clutch. If your dress has many embellishments, then you need to opt for a solid color clutch with minimal embellishments and prints to balance your look.
Batua bags are actually a hybrid between a Potli and a clutch. It is similar to the coin purse. These are sleek and quite elegant. To keep your phone, cash, keys, or kajal and lipstick, these bags are glamorously convenient.
Whichever type of designer bag you choose to carry with your ethnic wear; you can shop at My Luxury bargain and avoid spending a lump sum. In fact, we've selected a few designer handbags that will complement your Indian attire and make you stand out in a crowd. Have a look at these 4 luxury designer bags for ethnic wear:
Dolce and Gabbana Miss iPhone Case and Coin Purse
Buy Dolce and Gabbana Miss iPhone Case and Coin Purse
This Dolce and Gabbana bag is the perfect blend of class and elegance and will leave onlookers speechless time after time. This stunning D & G Coin purse blends convenience with utter style. This stylish iPhone case is made of Italian calfskin while the coin purse is sequined in pink/purple sequins. The best part? You can detach the iPhone case from the coin purse. Additionally, its fabulous gold-tone hardware with a dainty gold chain strap with pearls and crystal balls take its look to the next level. The dangling logo medallion on the coin purse is truly mesmerizing. Pair this Dolce and Gabbana clutch with your beautiful traditional attire and you'll surely be the center of attention at any wedding function.
Alexander McQueen De-Manta Clutch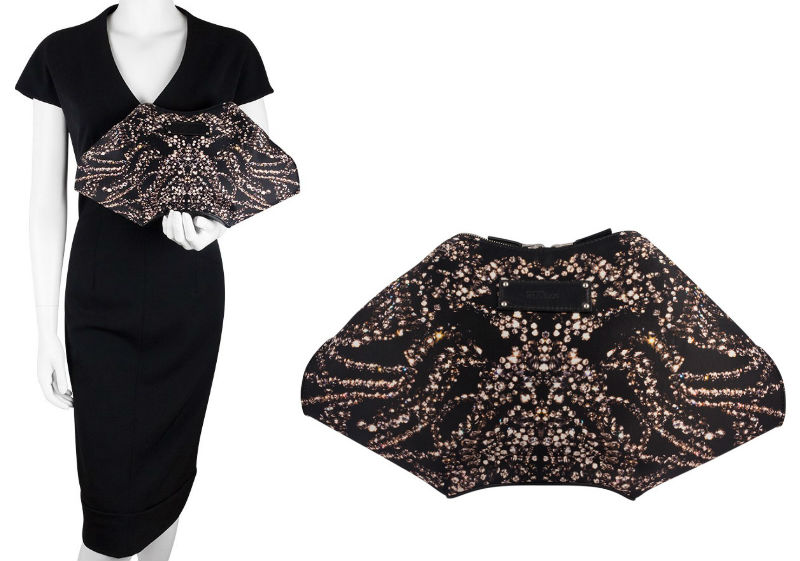 Buy Alexander McQueen De-Manta Clutch
The McQueen culture is known for the perfect amalgamation of contrasting elements: strength and fragility, modernity and tradition, severity and fluidity. You should certainly add some romanticism and spin to your traditional Indian outfit with this exquisite Alexander McQueen Clutch. The De-manta Clutch is crafted from black fabric and features a beautiful design. It features the magnetic fold over corners and a wide double zip opening with leather pulls. The beautiful and spacious interior will carry all your essentials. The clutch is a stunning piece of Luxury fashion from the brand.
Just Cavalli Red Quilted Graffiti Handbag
Buy Just Cavalli Red Quilted Graffiti Handbag
The Italian luxury brand Roberto Cavalli has been crafting luxury handbags for decades. This outstanding Red Quilted Graffiti Handbag showcases the brand's craftsmanship brilliantly well. Crafted from nylon and leather with stunning gold-tone hardware, the bag features a convenient top zip closure, double leather handles with gold metal chain detailing. The beautiful and roomy fabric-lined interior features an inner cavity and houses a side zip pocket and a multifunctional pocket. So if you want a bold and beautiful look, this one will be absolutely suitable for you. Carry this like a pro.
Salvatore Ferragamo Black Calfskin Clutch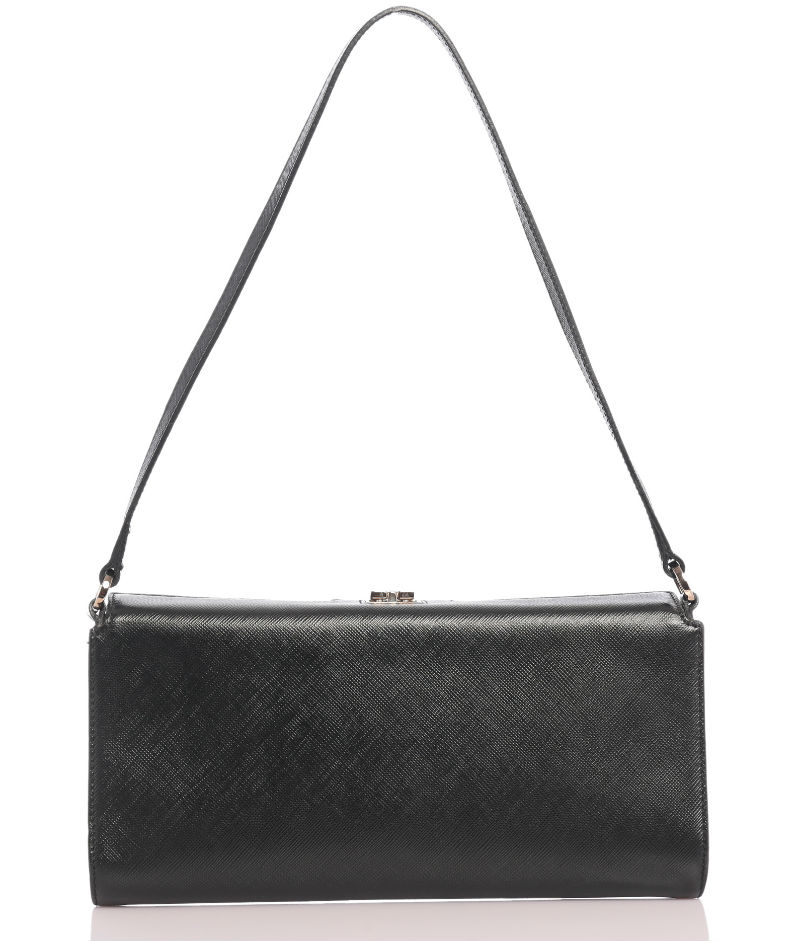 Buy Salvatore Ferragamo Black Calfskin Clutch
If you are still confused then remember the golden words of the luxury fashion world – Black never goes out of style; thus a Salvatore Ferragamo black clutch will definitely be a style statement. Chic and subtle, this Salvatore Ferragamo black clutch will go with almost anything and everything. Pair this beauty with any Indian attire and you'll surely steal the spotlight.