Wallets are an integral part of your outfit. No matter how trendy your handbag is, a classy wallet is essential. From running errands in the day to heading for a night out in town with friends, wallets have become an important accessory that not only provides convenience, to carry your cards and bills but also exuberates style and elegance. While at My Luxury Bargain you can shop wallets from numerous designers like Fendi, Bvlgari, Louis Vuitton and many more; our team has chosen to showcase a few exquisite Chanel wallets that you can shop.
Chanel is known to increase the price of its Handbags and Accessories almost every year. In 2017 Chanel increased the price of its Medium jumbo and Maxi Classic Flap handbag by an average 5.07%.  What is interesting is that Chanel in 2017 also increased the price of its Wallets and accessories. Chanel wallets were increased by a little less than 10% worldwide except for in China, Singapore, and Canada where customers witnessed an over 12% increase in the price of Chanel Wallets. Although we have noticed that Chanel increases the price of its handbags every twice or thrice a year, the increase in the price of wallets has come as a surprise to all of us. While we could discuss plenty of reasons for this price hike, there is one thing for sure; Chanel wallets are in demand and because they have become a coveted accessory the brand is sure to increase its price every year. Luckily prices of Pre-owned Chanel wallets are a different story altogether. On an average, the price of a Chanel wallet falls by 40% once it's consigned.
From as assorted collection of classy and stylish Chanel wallets, our team has selected a few Chanel wallets for you to consider. These Chanel Wallets will surely elevate your style and are definitely worth the splurge.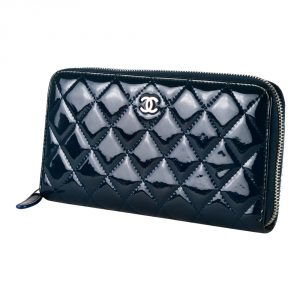 CHANEL BLUE QUILTED PATENT LEATHER ZIP AROUND WALLET
Add a little shine to your outfit with this Blue Chanel wallet. Made from glossy patent leather the wallet will sparkle through the night. Simple and understated elegance yet a bold fashion statement is what you need when you head out to bars with your friends and this Chanel wallet is sure to do just that and a little more.
CHANEL BLACK CAMBON WALLET
As famously said "when in doubt wear black" is all that we can say about this chic and stylish Chanel Wallet. A versatile piece of couture the wallet will complement any outfit you have in mind be it casual or formal. It's an ideal everyday wallet that is sure to get its due attention.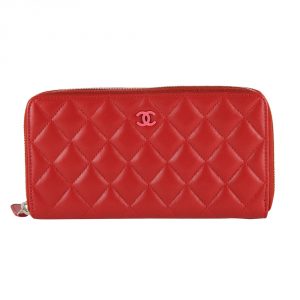 Chanel Red Quilted Leather Large Zippy Wallet
Red makes a powerful fashion statement and a red Chanel wallet is sure to make you stand out from the crowd. This Chanel wallet is crafted from lambskin leather and displays Chanel's instantly recognizable diamond pattern on its exterior. The brand's logo on its front flap is minimalist yet elegant. The wallet is perfect to carry to dinners and will complement your little black dress perfectly well.