We all can recognize a Saint Laurent Clutch from a distance. It's the epitome of style and functionality. Be it casual or formal, Saint Laurent has a clutch which will suit all your outfits. When the brand was headed by Hedi Slimane it had launched a variety of stunning monogram clutches which even today are often seen in the arms of many stylish Hollywood celebrities.
The man behind the brand Saint Laurent left Dior after he had a mental breakdown which was catalyzed by a 20 stint in the French Army. He founded the brand Yves Saint Laurent with his partner Pierre Berge. The brand is considered as a prominent fashion house across the world and is remembered as a fashion house that was the first to introduce the tuxedo jackets for women.
Whether you are looking for a compact Saint Laurent Wallet or a clutch large enough to hold your essentials, we've selected a few that have got our attention and will complement your fashion quotient perfectly well.
Saint Laurent Orange Cassandre Clutch
This Saint Lauren Orange Cassandre Clutch is sure to add a pop of color to your outfit. It is perfect for dinners and parties.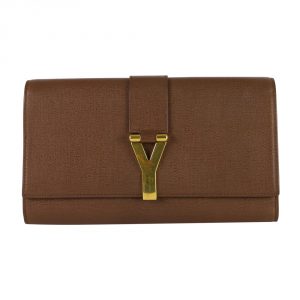 Saint Laurent Brown Cabas Chyc Clutch
Formal and stylish, the Saint Laurent Brown Cabas Chyc Clutch is perfect for office. It will compliment your formal attire perfectly well.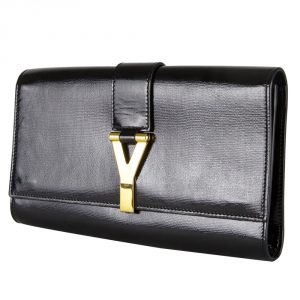 Saint Laurent Black Cabas Chyc Clutch
This versatile piece is the perfect 9 to 5 clutch and post when you head out with your colleague for a drink.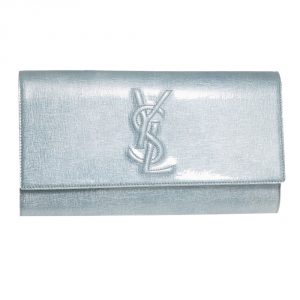 Saint Laurent Light Blue Belle De Jour Clutch
Add a spark to your little black dress with this Saint Laurent Belle De Jour Clutch. It's a rare color to find will add the right amount of bling to your outfit.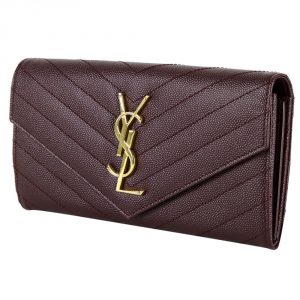 Saint Laurent Marron Flap Wallet
Functional yet a statement-making accessory, the Saint Laurent wallet will be hard to miss when you carry it by itself in your hand.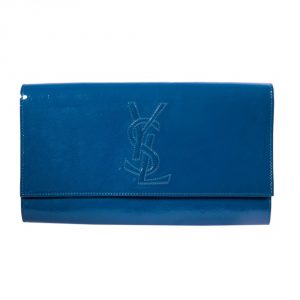 Saint Laurent Blue Belle De Jour Clutch
This Saint Laurent Belle De Jour Clutch makes a statement in vogue. It's a utilitarian clutch that will never go out of style.
In the fashion world, 'Classics' have not always been timeless. Most often they were considered new, groundbreaking and of course revolutionary. As time went by the new, groundbreaking and revolutionary became the 'normal' and we praised the simplicity that we saw in these normal making them 'Classics'. Saint Laurent clutches were introduced to the fashion world by tastemakers, they were made famous when we saw them carried by celebrities and fashion icons, they were further improved upon and today Saint Laurent Clutches are 'Classics' that will never go out of style. At My Luxury Bargain, you can shop an assortment of Saint Laurent clutches and wallets which have been carefully curated by our team.