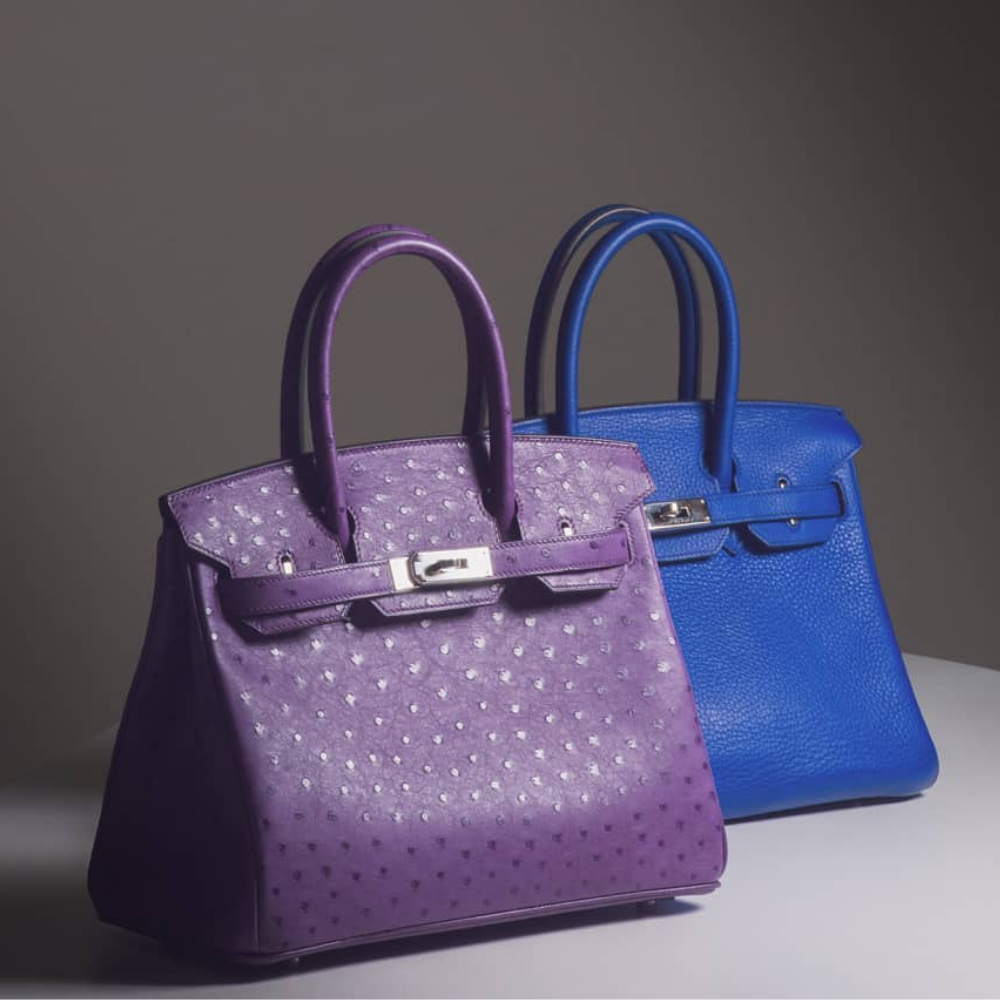 The meeting of the singer and actress Jane Birkin with Jean-Louis Dumas, artistic director of the Hermès house, in an airplane, led to the creation of one of the most sought after bags in the history of couture. During the flight, Jane Birkin complained about the lack of pockets in her Hermes bag, she wanted a more practical bag. Jean-Louis Dumas drew a design of the Birkin for her on the flight itself. Legend has it that Jane Birkin even participated in the design of the bag. In 1984, Hermes had invented an it-bag whose auction rating illustrates its constant success.
Practical and spacious, the Birkin is equipped with handles for carrying by hand or wrist and closes with two external straps lined with a padlock. It's leather lining ensures its resistance and its hold. Its exceptional quality (20 hours of work done by one and the same craftsman) makes it a bag of great rarity that it can not order more than a few years in advance.
The Birkin bag comes in 4 main sizes: 25 cm, 30 cm, 35cm and 40cm. The Birkin comes in about twenty materials including leathers such as grained cowhide, duck calf, ostrich, lizard, as well as in fifty colors.


Birkin has seen its price multiplied by 3 in 11 years, all models take together and averaged. In 2006, it took an average of Rs 3,30,000 to buy a leather Birkin, and the price almost doubled in 2016 to Rs 6,33,000. The reached its peak price in 2007 on leather models when Jane Birkin sold her Birkin for charity. It was sold then for a little over 57 Lacs! The value of the crocodile Birkin has also seen a strong progression over the last 3 years: if a Crocodile Birkin was worth 21 Lacs in 2007, it saw an upward price movement to Rs 32 Lacs in 2016. There was a visible decline in prices of Birkins in 2009 is due to the subprime crisis. The Crocodile Birkin suffered the most during the recession as it had a higher price than the usual leather Birkin.
Just like his cousin Kelly, the rarest Birkins are also the ones that cost the most. As a general rule, the most recent colors are the least common in the second life market: yellow or purple Birkins, for example, are extremely rare and take off at exceptional prices. Gray is the most expensive Birkin color. An amateur will have to pay an average of Rs 8,70,000 to acquire a Birkin Gris on the second life market. The darkest colors are the most widespread, with blue in the lead. Their average prices are therefore lower, but mostly not lower than Rs 6,00,000.